O.o
that didn't come out right.
seriously.
*crickets*
*clears throat* What I'm talking about are my missing pics!
They weren't missing...just somehow hiding on my camera card/disk thingy! But I swear...I managed to download AAAALLL those other pics y'all have been looking at...but lost those 150+ pics! I'm telling you I even did the explore search thingy on my hard drive...
NADA!*&*&&$#!!
Anyway...I had something totally awesome happen that caused me to find the freaky little buggers!
We've been having a baby owl visit us!!
In the MIDDLE OF A VERY POPULATED AREA...IN SOCAL!!!
On MY FENCE!
Where people SHOOT at...well...people! O.O
Let alone an owl...as of last night it was still alive....on my fence again. So I took pics!
Nnnatch.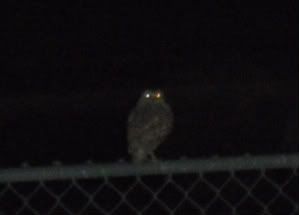 Ok...so having been in a "darker" frame of mind, I thought immediately..."Uhoh...bad sign!"
Being from WY, we have screech owl, and I was always led to believe if you hear one at night at certain occurances, times, whatev...bad, very bad.
So that's where I went in my randomness.
I had my aunt come out as the owl did not seem to want to leave anytime soon...and her first words were..."OOO...good luck!"
I'm like..."Yeah? Sweet...we're going to Pechanga tomorrow!
Woohhoo!
We're gonna win!"
Needless to say...I lost my shorts.
Yeah. Only me.
But...I did decided to stop losing my feria and bought a sweet cross necklace! It's one of those fat squared crosses that looks like the first aid sign! See...schweeet! lol
Anyway...
About the owl...It keeps coming back. So I took the pic and when I downloaded the it earlier...I found my missing pics!!!
Promptly saved them, I did...and blessed the owl!
My good luck charm!
So my tia was right.
That's my story. And I'm sticking to it. *emphatic nod*
btw...here's the link to the missing pics...the password is the same as the one I gave you before.
The missing pics